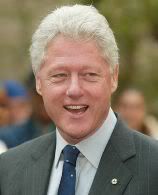 Bill Clinton gets it wrong again…During a campaign rally in Orlando last night in which Bill Clinton was introducing Barack Obama, he built his warm-up speech around what he called "the four things that really matter in a president." According to Bill Clinton, the four things it takes to be a great president are: 1) Philosophy; 2) Policies; 3) Ability to make a Decision, and; 4) The ability to Execute on Decisions. Wow…What about Character, Integrity, Track Record, Service Above Self, etc. (see "Leadership DNA").
I'll agree with President Clinton that the ability to make a decision is a good thing, but only if the decisions made are good decisions, made for the right reasons, and made at the right time. I'll also concede that the ability to execute is a desired quality in a president. However, most people I know aren't looking to elect a philosopher as president, nor are they looking for a policy wonk. What most people are looking for is a candidate who has a proven track record of facing difficult challenges with integrity…a candidate who will subordinate their self interests to the interests of this great nation. As a top CEO Coach, I know a bit about leadership, and what it takes to be a great leader. John McCain has all the leadership traits we could possibly look for in a president, and why we listen to the drivel of media bias over the substance of a long-term, demonstrated track record of success is beyond my compreshension.  
While I won't turn this post into a long rant, I'll simply close with the following thoughts: John McCain gave this country 5 and 1/2 years as a prisoner of war. When he was given the opportunity to leave early because of his status as the son of an Admiral, he rejected the offer so that other soldiers who had been there longer could return home. This demonstrates the strength of character and the quality of decisioning I want in our next president.
Bottom line…If John McCain can give us 5 and 1/2 years in a prisoner of war camp, I can give him my vote for four years in the oval office.